Istanbul's Unusual Tourist Attraction - Basilica Cistern
Istanbul's Unusual Tourist Attraction - Basilica Cistern
31st January 2015
Underneath the streets of Istanbul lies the Basilica Cistern.
There are hundreds of ancient underground cisterns in Istanbul but only two of them have been restored beautifully and are open for visitors.
The Basilica Cistern is one of Istanbul's most popular tourist attractions and is reached by descending 52 stairs. There are 336 marble columns that support the huge underground chamber lined up in 28 rows of 12.
Built during the 6th century by Byzantine Emperor Justinian the Great, the Basilica Cistern was used to store water for the Great Palace. This was because as Constantinoples population grew the city suffered from many water shortages. Later after the Ottomans conquered the city, the water was used to supply water to the garden at Topkapı Palace.
Basilica Cistern Turkish Yerebatan Sarnici it is the largest of all cisterns. The most extraordinary feature of the impressive columns is the two giant Medusa heads, which are placed at the column bases.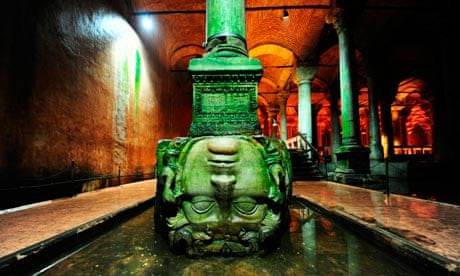 Forgotten Wonder
A Frenchman visiting Constantinople in the 1500s discovered the Basilica Cistern. He had heard unusual rumors of locals drawing up fresh water and even fish from holes in their homes cellars. Fascinated by these stories and the myths of vast underground temples, he decided to investigate. Thus he rediscovered the subterranean wonder, the largest of the long-forgotten cisterns of the Byzantine Empire.
In 1963 the cistern was used as apart of the James Bond Film "From Russia with Love".
Visiting
The cistern is illuminated with a soft lightshow and classical music.
Located in the district of Fatih, close to the blue mosque.
How to get there: The nearest Tram station is Sultanahmed from there you walk 2 minutes
Metro: the nearest Metro station is Aksaray
Open
Daily between 09.00 and 17.30.
Entrance fee: 10TL
Enjoy this Blog? read more Blogs:-Sign up to YellAli's weekly newsletter and receive the latest information in Turkey - Tips, procedures, advice, promotions and much more!
| JOIN YELLALI FOR FREE | What is YellAli ? | VIEW ALL BLOGS


Please login to comment