Top 5 nightclubs in Bodrum
Top 5 nightclubs in Bodrum
1st February 2015
Deemed the St, Tropez of the Aegean, Bodrum has all the glitz and glamour of an Elton John performance at Caesar's Palace, Las Vegas.
This millionaire playground is favoured among several high profile individuals from Chelsea FC owner Roman Abramovich to Sir Mick Jagger.
Marvel at the ancient Myndos Gate, the Mausoleum, considered to be one of the Seven Wonders of the World and Bodrum Castle (Castle of St Peter).
But among the whitewashed homes and panoramic harbourside views, what are the hottest nightclubs around?
New Old Club
Nestled inside a popular tavern in the heart of Bodrum town, the New Old Club has undergone somewhat of a revamp by the owners.
Hailing from the same stable as the Marina Yacht Club, this 18th century building extends across two floors with a magnificent courtyard full of olive trees.
Find your own hidden alcove or relax with a drink in one of the sprawling lounge areas that dot the outside courtyard. Dress to impress as you can dance till you drop – well until 4am at least.
Halikarnas
Frequently named as one of the biggest open-air discos worldwide, Halikarnas enjoys a stunning outdoor setting bordered by ostentatious Greek porticos and colonnades.
Don't rest on your laurels as you can enjoy numerous sultry lounges and a variety of open-air bars. The main focus is centred on the main dance floor that stretches as far as the eye can see. Check out the big stage, which plays host to a number of different spectacular live performances.
With its waterfront location you will be blown away by the vibe thanks to the heady mix of Ibiza style tunes. If you want to throw a few moves like Jagger then sample the supper club inside created by daughter Jade.
29 at Maki
A favourite among the Bodrum party scene, Maki can be found inside the Maki Hotel located on the waterfront. Make sure you check out the tanning deck where many Bodrumites come to splash on the suntan oils. This ultra-hip beach club provides two individual bars, a lounge and a bistro style restaurant if you want to spend more time lounging around. Watch out for Bodrum high society and a plethora of celebs strutting their stuff, which have included Uma Thurman.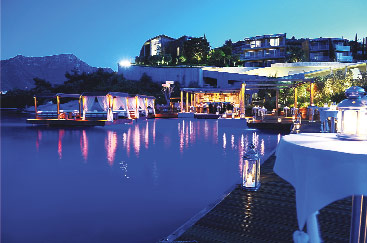 Bianca Beach Club
Within close proximity of Türkbükü where Prince Charles has been a visitor, Bianca Beach Club is located among the pristine sand of Golkoy.
This decadent beach club is the perfect place for après-beach fun and is a haven for the young and the beautiful. However, if it's all too much, then relax at the neighbouring hotel.
Cabana beds and white mattresses finish the beach look with a bar area featuring plenty of mixes spun by the resident DJ. Open between May and October this riotous venue will no doubt keep you on your toes until the small hours.
Billionaire Club
The Billionaire Club is the epitome of luxury and now it has landed on the Turkish Riviera. If you are not impressed by the extraordinary 700-metre pool and world renowned DJ's then it's time to hop off this private island. Based in Palmarina in Yalakavak, the concept was originally established in 1998 by former F1 mogul Flavio Briatore. Other Billionaire Clubs around the world range from Monaco to Marbella, Istanbul and Sardinia.
Launched by Czech cover girl Eva Herzigova, Billionaire has gone from strength to strength. They have already welcomed a sparkling array of celebrities and Hollywood glitterati such as iconic boxer Mike Tyson and Denzel Washington.
Enjoy this Blog? read more Blogs:-Sign up to YellAli's weekly newsletter and receive the latest information in Turkey - Tips, procedures, advice, promotions and much more!
| JOIN YELLALI FOR FREE | What is YellAli ? | VIEW ALL BLOGS
Please login to comment