Istanbul's top restaurants
Istanbul's top restaurants
24th November 2013
For classy dining in top culinary establishments, these Istanbul restaurants are destinations not to be missed.
Read on to discover Istanbul's top restaurants.

Topaz
Winner of the most innovative and best Mediterranean cuisine, this stylish and sophisticated restaurant will not disappoint.
Enrich your taste buds with the delightful Mediterranean and Ottoman menu.
"Our aim is simple: to draw on our Ottoman and Mediterranean heritage to create exciting, delicious dishes made from the finest, freshest ingredients in
Turkey" - Topaz

When making a re­servation, ask for a table with a Bosphorus view.
The cost person is approx. 140-160 lira. Topaz is open every day between 12.00 and 24.00.

Find Topaz on Ali's Businesses


360Istanbul
Notably named for the spectacular 360 views of Istanbul. This popular chic and lively restaurant / bar offers a twist on traditional Turkish cuisine, cocktails and live entertainment.
The restaurant has three shifts for reservations - From 18:00 to 20:00 hrs., 20:00 to 22:00 hrs. And 22:00 - Late.
The prices are between 70 - 90 lira per person. It's open ever day between 12.00 and 02.00.

İstiklal Cad. Mısır Ap. No: 163 Beyoğlu/Taksim/Istanbul, +9 0212 251 10 42
Mimolett
Istanbuls Michelin star rated restaurant is a typically stylish and sophisticated eatery with a menu consisting of unforgettable flavors.
Try the meat and fish dishes from the a la carte or chefs menu.

The average price for a meal in Mimolett is 150 lira. It's open ever day between 19:00-24:00 ex­cept Sundays.

Find Mimolett on Ali's Businesses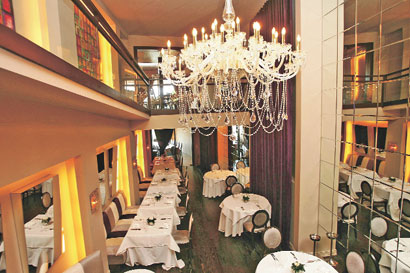 Cipriani Istanbul
Perhaps the most glamorous restaurant in Istanbul, the famous upmarket Italian chain of restaurants have various locations around the world; New York, Hong Kong, LA, Abu Dhabi, Venice and London.
Cipriani Istanbul is located on the prestigious Buyukdere Street, at the 'Edition Hotel', in the heart of the Levent business district.
The restaurant features classic dishes from the original Harry's Bar in Venice.

Address - Büyükdere Cd The Istanbul Edition No:136, Levent/Istanbul - Europe, Turkey
Vogue
This restaurant can easily tempt in anyone with its breathtaking views and elegant de­coration. The restaurant's menu consists of world cuisine. However, lately, it has had a great demand for its rich sus­hi menu.
It's open every day between 12.00 and 02.00.

Address - Akaretler Spor Cad. No: 92 BJK Plaza A Blok Kat: 13 Beşiktaş/Istanbul, 0212 227 44 04
Gaja
Gaja is located on the 14th floor of the Swissotel. It has a beautiful view from Dolmabahce palace to Üsküdar. The restaurant's chef is William Mahi - who is an award-winning chef.
The Ehlikeyf menu has a price of 225 lira and is one of the most important trump cards of the restaurant.
Fresh squid cooked on the grill, homemade tagliatelle, are some of delicious options.
It's open every day between 19.00 and 22.30.

Address - Bayıldım Cad. No: 2 Maçka Beşiktaş/Istanbul


Mikla
Try cutting edge fusion delicacies. In summer, be sure to dine al fresco on the rooftop terrace. This offers a breathtaking view of Istanbul and the glittering Bosphorus Strait.
Mikla is located on the rooftop floor of the fashionable Marmara Pera Hotel, its sublime views over Istanbul include the Hagia Sophia and the Topkapi Palace.

Address - The Marmara Pera, Meşrutiyet Caddesi No. 15, Tepebasi 34430


Tuğra
Tuğra restaurant & lounge, feast like an Ottoman Emperor! The ultimate Ottoman dining experience.
 This is Istanbul's most exquisite and romantic fine dining restaurant, it featurers; live classical Turkish music with a spectacular backdrop of the Bosphorus.

Tuğra Restaurant & Lounge is located on the first floor of the original Çırağan Palace.
The modern classic menu hosts specialties such as Lamb Külbastı and Testi Kebab.

Address - Ciragan Caddesi 32,34349 Istanbul
Enjoy this Blog? read more Blogs:-Sign up to YellAli's weekly newsletter and receive the latest information in Turkey - Tips, procedures, advice, promotions and much more!
| JOIN YELLALI FOR FREE | What is YellAli ? | VIEW ALL BLOGS
Please login to comment