Snowstorm and icy weather cripple Turkey
Snowstorm and icy weather cripple Turkey
9th January 2017
Heavy snow and icy weather has gripped Turkey, paralyzing roads, ferries and airports.

Heavy snowfall and below-freezing temperatures since Friday have enveloped Turkey, causing havoc on Turkey's roads, ferries and airports.

Heavy snow and high winds have brought most transportation to a standstill, causing re-routed and delayed flights, cancelled ferries and closed roads.

Schools across the country will not operate Monday 9th January as the snowfall continues to fall non-stop, burying some parts of the country in as much as 122 centimeters of white.

Pregnant and disabled employees working in public institutions can also benefit from the snow holiday.

Very few parts of Turkey are not experiencing below-freezing temperatures.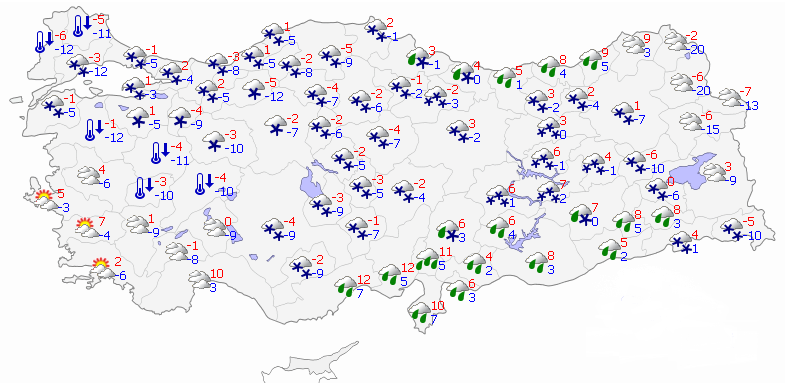 The snow started falling on Friday evening, and is not expected to subside soon.
National carrier Turkish Airlines canceled some 650 flights. Some intercontinental flights were diverted from Istanbul to Turkey's southern city of Gaziantep.

The Bosphorus Strait, which runs through Istanbul, has been closed and ferry services have halted. The Strait is one of the world's busiest sea thoroughfares, and has been closed to transit shipping in both directions due to the weather conditions.

The strait is one of the world's most important choke points for the maritime transit of oil, carrying over 3 percent of global supply, mainly from Russia and the Caspian Sea. Large amounts of grains from Russia and Kazakhstan are carried to world markets from the waterway.

One of Istanbul's busiest highways has turned into a parking lot as drivers abandon their cars to use public transport and walk home rather than risk driving on icy roads.

Thousands of council personnel have worked tirelessly to keep roads and pathways open. In Istanbul alone, 1,347 vehicles and 7,000 council personnel are working to counter the snow.

The mayor of Istanbul Metropolitan Municipality in Turkey, Kadir Topbaş, warned citizens to avoid driving and use public transport instead. Topbaş also requested that citizens aid in the clearing of snow from side streets and move their abandoned cars from highways to avoid having the cars towed.

Istanbul's dams have reached 60 per cent capacity, without the ice melting. This is the most intense snowstorm since 2009.

yenisafak.com


Please login to comment